The Loaves and Fishes Food Pantry
at the Ada Jenkins Center
Covid-19 Announcement
IN AN EFFORT TO REDUCE CLOSE PERSONAL CONTACT, LOAVES & FISHES HAS MADE THE DECISION TO TEMPORARILY HOLD ONCE-A-WEEK MOBILE FOOD PANTRIES AT EACH OF ITS LOCATIONS. 
As always, you will receive a week's worth of nutritionally balanced groceries from all five food groups.
Weekly pickup occurs as a drive-through in our Food Pantry parking lot, on Wednesdays from 12:30-2:00pm. Referrals are still required; click here for more information.
"We are working on transition plans for returning to client-choice shopping inside our pantry, and we'll share further details as soon as they are available.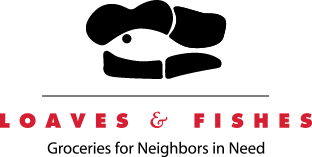 The Ada Jenkins Food Pantry, a partner of Loaves and Fishes, allows for client-partners to shop for their own groceries based on a nutritionally balanced shopping list provided by Loaves & Fishes. The shopping list indicates how many items one may choose in each food category. Volunteers assist and help identify how many items from a category a client-partner may take.
 Looking to donate food/toiletry items?  Check out or Greatest Needs List – thanks!
ELIGIBILITY
Clients are eligible to receive food 12 times per year. A referral is required. Click here for more information.
Any community service provider that knows your situation may call in a referral to Loaves and Fishes. Some examples of those providers include:
Church Pastor or local clergy
Doctor's office or other medical provider
School Counselor / Social Worker
Department of Social Services, Salvation Army, Goodwill
Your Ada Jenkins Coordinated Services Specialist or appropriate staff contact
If picking up for another person, a signed letter stating permission to pick up is required. For more information, contact Loaves & Fishes.